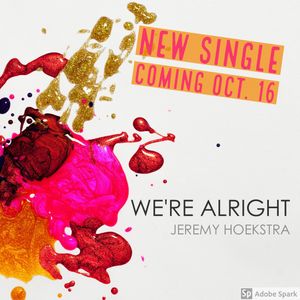 Hey everyone!  The first song we recorded in Nashville this past summer is coming out Oct. 16! I am so excited to share this song with you!  I had the help of producer Charlie Lowell (Jars of Clay).  This song has a little bit of a new style for me, but I think you'll find all the ingredients of my music in here.  I can't wait for you to hear it!
Tell your friends and families about it...and tell them that it's gonna be alright.  I think that's a message we all long to hear, know, and feel these days.  Whether you're a student dealing with the pressure of fitting in...whether you're in your 20's trying to figure out what to do with your life...whether you've got a young family and are desperately trying to keep it all in balance...whether you're an empty nester discovering who you are again...whether you're nearing the end of your life and wondering what is beyond...we all long to be told that it's gonna be alright. 
This song came out of the last year of life for me and my wife as everything came to a crashing halt with my wife having some significant health issues that could not be identified.  We both needed to hear over and over and over again that it was going to be alright.
I hope that this song (and all my music) is the sound of peace ringing through the terror reminding you and helping you to feel that it's going to be alright.