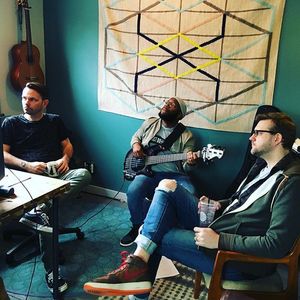 I just returned from another trip to Nashville, TN to record some more music!  I worked again with producer/musician Charlie Lowell of Jars of Clay.  I have to say, what we're working on right now is amazing!  I am SO EXCITED to share these songs with you!

These songs are richer and more beautiful than anything I have ever done before.  I think the reason is because these songs really mean something to me.  I think for the longest time I have written songs about things.  That's all fine and good, but these songs are coming from the depths of who I am and what I have experienced.  These are my raw feelings and thoughts poured out into words and sounds that capture what I've been going through the past couple of years.  We worked really hard to make sure that the sounds we picked and the vibe we got from the performances matched the depth of the emotion that is so intricately woven into these songs.  I had my wife Lindsay there as our emotional barometer (and also for vocals!).  She experienced what these songs are all about as intensely as I have.  Even listening to the rough cuts of what we did last week make me feel it all so deeply.  I think that means we hit the mark!
It was also SO COOL to have Phil Moore in one morning to play bass on these!  Phil is the best dude you'll ever meet and he is one of the best musicians I have ever been around.  Phil plays around Nashville and tours with Mat Kearney.  We brought him in to mainly play on one song.  He played on that song and then started putting away his bass as we played him the second song.  He listened for a minute and immediately took his bass back out and recorded something so cool that I would have never even thought to have come up with.  That's the beauty of working in community and bringing friends into the process.  They come at these things from different angles and hear and see it in different ways and elevate them to another level.  I'm very thankful to have spent time with Phil that morning and look forward to getting to know him more and having in back for future projects.

I also gotta say that Charlie Lowell is a one amazing guy too.  He totally gets my vibe and enhances everything I send him.  That's the mark of a really good producer.  He is so easy to work with and there are great conversations in the midst of it all as well.  Charlie is also such a great artist and comes at these from a different perspective too.  I love working with him.  I'm so thankful for him and for the friend that he's becoming and I'm thankful for the friend that hooked us up as well (I'm looking at you, Joel Tanis!).  

Nashville feels like home already.  It's so fun being around people who are doing what you're doing in a place that, as far as I can tell, is about building relationships, hanging out on front porches, singing songs, drinking coffee, eating good food, and moving at a little slower pace.  I can't wait to get back and continue making music and making friends.
Stay tuned for more news on when you'll be able to hear these songs!