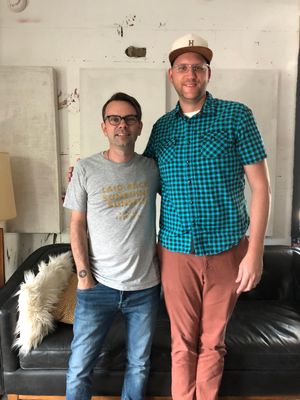 This past week I had the awesome opportunity to head to Nashville, TN to record a couple of songs I have written. I was working with musician and producer Charlie Lowell from the band Jars of Clay at Gray Matters Studio. It was a great time hanging out with a super talented artist and an even better human being.  We made some music and talked about life and inspirations and it was so good.  Nashville is a great city where music truly rules. It's most famously known for country music but most other genres exist there as well. Charlie and I were not working on the next Darius Rucker single (but that would be sweet!). Instead, we were developing more of an indie sound for these songs.  I'm a huge fan of music that creates space and wide soundscapes - something that your soul can sink into.  We were working with synthesizers, drum programming, and mandolins to find something like that for these songs. I think we created something cool that has a fresh feel but is still rooted in the organic. 
So one of these songs is a brand new one and the other is a super old one.  Interestingly, they both are relevant to my life right now. This past year has been the most difficult and gut-wrenching year of my life. My wife, Lindsay, has been sick with an undiagnosed illness that has caused our life to shut down. She has not been able to work for about a year and has been basically bedridden for months. We have seen doctor after doctor, been to the ER countless times, have had test after test run, even been to Mayo Clinic with no real answers. All of this has pushed us beyond our limits in terms of what we have been able to handle emotionally, physically, and spiritually. On top of that, all of the junk of our lives has been brought to the surface through all of this. When that happens you have one of two choices: drink or deal with it. I have chosen to deal with it (but have been thankful for friends to talk with over a beer or bourbon). As Lindsay and I have simply tried to survive, we have come to realize that we don't want to remain where we are and who we are. We feel like there has to be something better on the other side of this. So the only option is to move forward. This can also be a terrible place to be especially when you don't know where you're going and all you know is who you HAVE been. But we can't stay in this place anymore. 
So the songs I'm writing now are coming from that place: a scary place where we're trying to hold on to the smallest sliver of hope - trying to believe that there is something better and more beautiful around the next corner. The new song we're working on says, "I believe that all of this is gonna get better…it's alright we survived in the half-life/it's alright we can thrive and we'll get by/we're alright we're alive in the bright light/we're alright we ignite in the good fight."  The old song says, "You could keep me here but it's not the same anymore…Lead me into here/breathe in me I feel/and I will believe/and you will see."  There's hope and there's no other choice but to move forward because where we're at and where we've been is just not satisfying anymore.  There's got to be something more - There HAS TO BE.
I'm really honored and excited to be able to work with people like Charlie on songs that are so important and personal to me. We've got some more work to do on these songs, but I can't wait to share them with you! I hope you'll feel a little more connected with me through them, and I hope they might speak something to your heart as well. 
Hang in there with me and I'll keep you updated as we go! 
Also, if you'd like to contribute to the Go Fund Me page that we have set up to cover some of our costs particularly as they relate to Lindsay's medical expenses, you can check out this link.